BREAKING NEWS – Orijen's innovative award-winning Women in IT Executive Mentoring (WITEM) Program has been recognised in the newly released publication "ICT Workforce Study" by the Australian Workforce and Productivity Agency (AWPA).
The aim of the study was to:
examine current and proposed future developments in the ICT industry and consider the impacts on workforce requirements and skill development
analyse the expected supply of skilled labour from all sources and any resulting skills shortages and/or skills gaps
identify the key challenges related to skills demand and supply for the sector, and
consider current initiatives to address these challenges and identify methods to replicate best practice in workforce development across the industry.
After extensive research and analysis of existing industry programs and ICT initiatives, the AWPA announced WITEM Program as a finalist, and eventually selected the program for publication as a case study in the publication.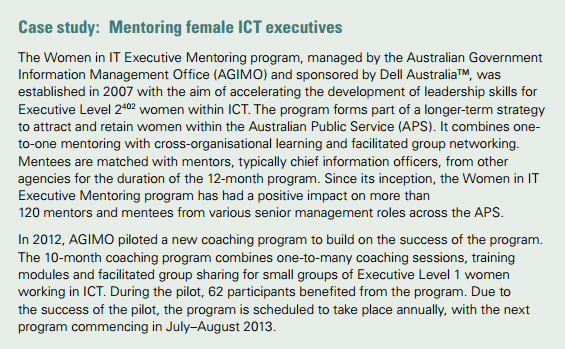 We are very proud that WITEM Program has been recognised in this publication, especially as it means that the personal and professional benefits gained by program participants are acknowledged as being a contributor to the success of females in ICT careers.
Thank you to our partners Dell Australia and the Australian Public Service for their commitment to advancing ICT women in leadership positions.